Highlights
Initially opened for 2010 Soccer World Cup
The only Mexican restaurant run by a Mexican family in South Africa
Authentic Mexican cuisine in an eclectically decorated restaurant
Fine Print
Validity:
Valid for 3 months from date of purchase.
Purchase:
One Groupon per person; one additional may be bought as a gift.
Redemption:
Reservation required: 021 419 4233. Quote Groupon security code when booking. No-shows forfeit Groupon.
Further Information:
Monday to Saturday, 11:00 to 15:00 and 17:00 to 22:30. One Groupon per table. Maximum of six people. Not valid on public holidays. Groupon does not cover additional tax, service charge or gratuity. Picture displayed is only a representation. Subject to availability.
Groupon T&Cs apply
Although donning a sombrero and wrestling mask may add some Mexican flair to an outfit, it cannot help you unlock the secret of Mexican cuisine. Tuck into authentic flavours with a Mexican platter and divorce tequila at San Julian.
Choose between these options:
Pay R160 for a Mexican platter and divorce tequila for two people, valued at R320
Pay R307.20 for a Mexican platter and divorce tequila for four people, valued at R640
Pay R432 for a Mexican platter and divorce tequila for six people, valued at R960
Adventurous palates dive into a plate dappled with quesadillas, sopes, classic poppers, enchiladas and guacamole. Made with authentic flavours and ample dustings of relish, the platter unites taste buds with happiness. Finish off the meal with a divorce tequila – gold tequila served with an accompanying shot of tomato juice with orange juice and tabasco touches.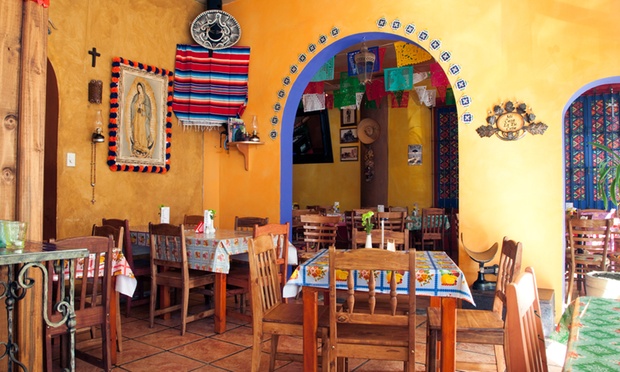 Quesadillas: Deep fried quesadillas filled with feta cheese, paprika,white onion and topped with salad cabbage and pico de gallo on the side.
Sopes: Corn crostini topped with refried bean paste and Mexican chorizo.
Classic poppers: Jalapenos filled with white cheddar and a touch of paprika, crumbed with toasted tortilla and served with smoked Chipotle aioli.
Enchiladas: Soft corn tortillas filled with shredded chicken, topped with red mild chilli salsa made with sun dried red jalapenos and red pimentos, Greek feta and sour cream.
Guacamole: Side of fresh mashed avo, chopped onion, green chilli and coriander, served with corn chips on the side.
El Jimador reposado divorced: Gold tequila served with a side shot made with tomato cocktail, fresh orange juice and our handmade Tabasco sauce.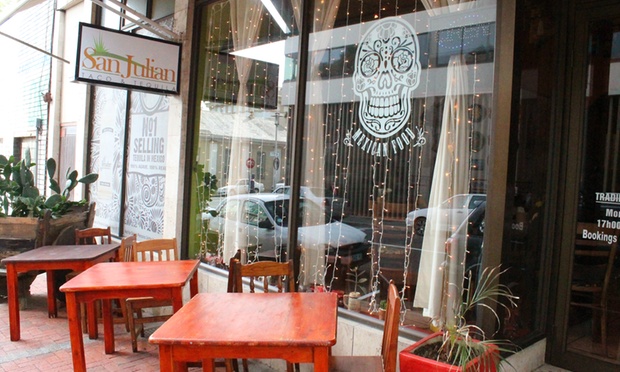 More About San Julian
Established in 2010 for the Soccer World Cup in South Africa, San Julian was initially a pop up Mexican restaurant designed to last a year. However due to demand, and the owner's affinity for their patrons the restaurant thrived and in 2014 it is still going strong. The only Mexican restaurant run by a Mexican family in South Africa, San Julian offers up authentic flavours in a quaint setting. The restaurant boasts delightfully colourful walls and decorative items ranging from sugar skulls to piñatas strung from the ceiling.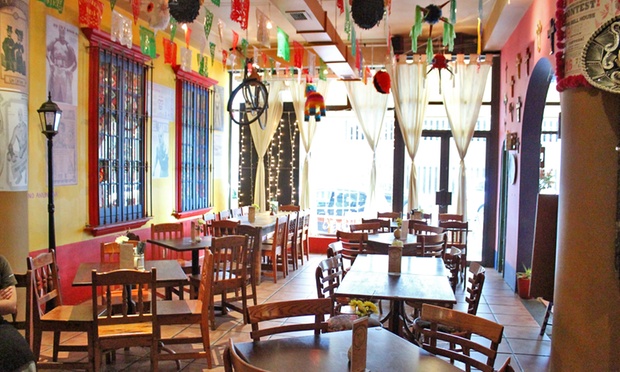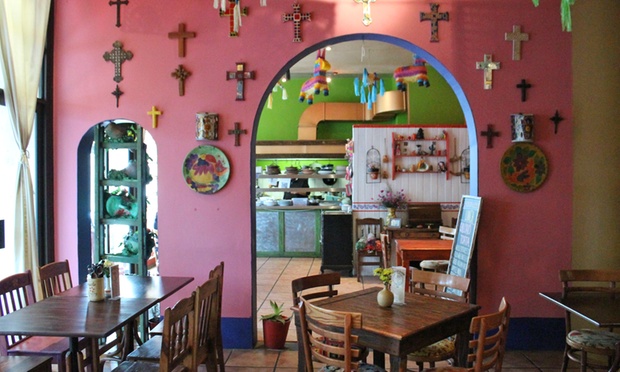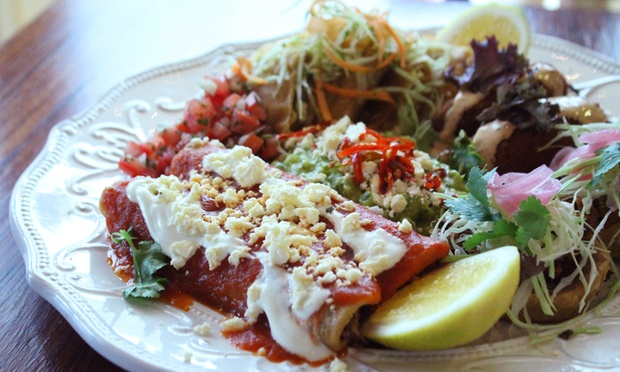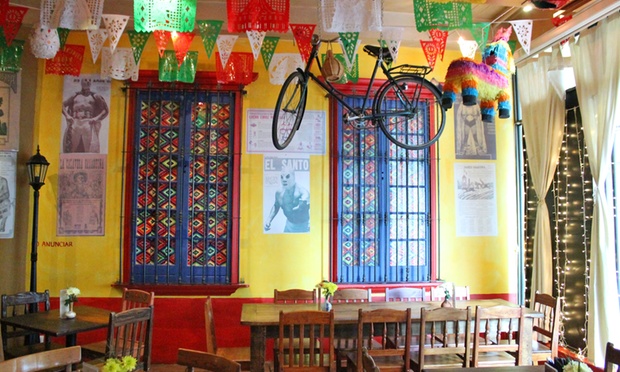 San Julian
A
Shop 3 & 4 State House Building 3 Rose Street, De Waterkant Cape Town 8001
Get Directions»
San Julian presented by Groupon.co.za