Wafu, meaning the Asian Way, needs no introduction to locals or guests alike. Its renowned breathtaking views add a unique dimension to the epicurean delights that await you. The view spreads from the old Lighthouse at Mouille Point, to the gleaming lights of Table Bay. From Whale-watching to Yacht racing or just watching the seals or dolphins frolicking in front of the restaurant, Wafu's view comes out tops.

Raised wooden decks with cherry inlays & green tea antiqued walls, tell of the indulgences that are in store for you. Three meter long fish tanks that are the Bar's eye catching feature, as well as the Cherry wood counters, give Wafu a beautiful warmth.
The cocktails are simply.....decadent! Why not try out a Wafu original that will promise to delight the senses. Or your barman can also mix you one of your old favourites but it is guaranteed to have a Wafu twist!
Wafu offers a unique style of Asian Tapas Dining, which means good food shared amongst all. The menu includes an assortment of fresh sushi, dim sum ,fish, meat and poultry dishes. So come and enjoy an experience that will keep you wanting more......Visit the website for more information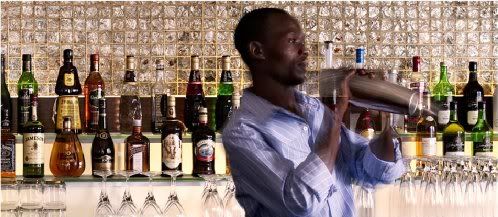 Further deals in this category
Further deals in this city
Further deals in South Africa
Further deals in other categories