There can surely be nothing as thrilling as taking in the sites around Cape Town on the back of a Harley Davidson. Cape Corporate tours is now offering you the chance to mount up on either a Roadking, Fatboy, Heritage or Sportser Harley Davidson for just such an experience.
Jason Dadd, owner of Cape Corporate Tours, is a Private Licensed operator. With over 15 years biking experience as well as working many years for Harley Davidson Cape Town, client safety is of top priority at all times. Speeding prohibited. Expect a cool cruise. We guarantee the tours are guided by experienced, ambitious and knowledgeable staff literally going the "extra mile"
The bikes are parked outside Camps Bay Tourism / The Bay Hotel where you'll get ready to mount up. Your personal chauffeur will give you a short brief on what to expect. Departure takes place shortly after when those babies are revved up and away we go. The route will be Camps Bay – Hout Bay – Up Chapmans Peak Drive and back to The Meeting Point stopping for photographs and a drink along the way.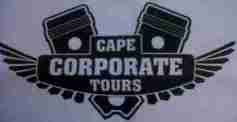 .
Further deals in this category
Further deals in this city
Further deals in South Africa
Further deals in other categories