Pay R1800 for a one night stay and a signature massage at Sante Hotel & Wellness Centre (value R4200)
preorder now
- 57%
Pay R1800 for a one night stay and a signature massage at Sante Hotel & Wellness Centre (value R4200)
Highlights
- Pay R1800 for a stay for 2 at Sante Hotel & Wellness. Rooms available during December, January, February until the 7th March 2011 - Includes 1 free Signature massage, breakfast and full access to the Wellness centre - heated pool, gym, sauna, steam room,jacuzzi and experiential showers - A chance to relax in incredible five star opulence. Sante Wellness has been hailed by Condé Nast as one of the top 3 spas and hotels in the world - Only 40 mins from Cape Town - Children under 12 stay free - Can be purchased via Credit Card, EFT or Bank Transfer
Fine Print
Flanked by the majestic Simonsberg mountain range, Santé Winelands Hotel & Wellness Centre combines a luxury hotel an award-winning wellness centre, in the heart of the winelands in 'the Fairest Cape'.
With its breathtaking position on a 160 hectare working wine estate in the picturesque Paarl/Franschhoek Valley just 40 minutes from Cape Town, Santé Winelands is dedicated to a health and wellness lifestyle.
The rooms are stylish and luxurious, with marble finishes, deluxe bathrooms, full cupboards, and writing desks. Each room is equipped with a butler station, and 24-hour in-room dining service is offered. Satellite TV channels and DVD's are also available. Beds are turned down in the evening and rooms are serviced daily.
The bathrooms are complete with separate showers and baths. Marble vanities include a personal hidden hairdryer and a full range of internationally acclaimed cosmetics and toiletries are provided for guests to pamper themselves with. Make-up mirrors, Mediterranean-style bathrobes and slippers complete the luxurious feel of the rooms.
The hotel's fine dining restaurant, Sommelier, presents a gourmet menu following international trends and drawing on local delicacies. All dishes are prepared using only the freshest ingredients, sourced locally as well as from our own organic fruit, vegetable and herb gardens. Openness and beauty is key - and all windows and French doors overlook the mountains and lake. At Sommelier it's all about style, presentations, flavour and service.
Sante Hotel Wellness Centre
It is the philosophy of Santé to encourage a fresh start to a healthier, more joyful way of living.
The tranquil, non-invasive, welcoming environment makes Santé Winelands the ideal retreat for people simply seeking privacy, peace and quiet away from the maddening crowds. For those who merely want to be spoilt and pampered, the boutique-hotel type service is the ultimate in luxury.
Guests staying over at the hotel enjoy complimentary access to the Wellness centre with its state-of-the-art-spa facilities including: a unique indoor hydro-pool with liquid sound, multi-height body jets, neck massage and counter current resistance swimming; a private sundeck, fully equipped gymnasium; sauna; steam room; jacuzzi; three snail shaped multi-experience showers that offer a variety of different options: from tropical rain to mountain mist to enhance the unique experience.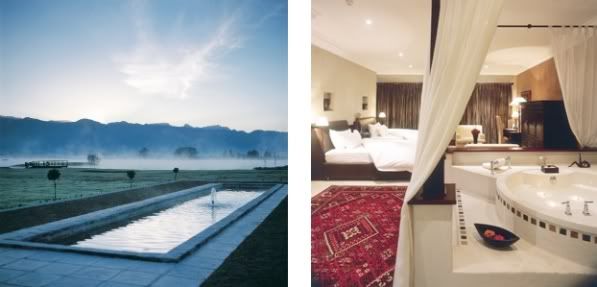 Further deals in this category
Further deals in this city
Further deals in South Africa
Further deals in other categories
Sante Winelands Hotel & Wellness Centre
Klapmuts Paarl 7625
Sante Winelands Hotel & Wellness Centre presented by Groupon.co.za