R100 FOR A CUT & STYLE AT CREW MEN'S GROOMING
preorder now
- 50%
R100 FOR A CUT & STYLE AT CREW MEN'S GROOMING
Highlights
- Pay R100 for a cut & style at one of Johannesburg's best hair salons - Salons in Sandton, Rivonia, Birnam and Morningside - Enjoy a complimentary whiskey, beer or coffee - Crew Men's grooming have a [full range of offerings](http://http://crewmg.co.za/services.htm "") including massages, manicures and pedicures - A Twangoo voucher is great as a gift
Fine Print
This voucher entitles you to a haircut at Crew Men's Grooming. Salons are in Nelson Mandela Square, Rivonia Village, Morningside Shopping Centre and Blubird Shopping Centre.
For the total male grooming experience
Crew Mens Grooming opened its doors on August 2004 as a concept store for the American Crew range of men's products. The store quickly became famous for its exceptional service and today boasts a regular client list in excess of 8,000 regulars.
Catering exclusively for men, the environment is upmarket and stylish. Gents can enjoy a complimentary beer, whiskey or just relax with a coffee while having their hair cut and styled.
The traditional shave with oils, hot & cold towels performed with a cut throat razor is a popular treatment. In additional there are services from manicures to sport massage and waxing if required.
The service is exceptional, the conversation always interesting and you will walk away with a fine, precision haircut.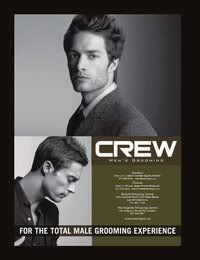 Further deals in this category
Further deals in this city
Further deals in South Africa
Further deals in other categories
Crew Men's Grooming
Shop L47A, Nelson Mandela Square Sandton
Crew Men's Grooming presented by Groupon.co.za