uShef focuses on the entertainment side of cooking, whilst teaching everybody a tip or two whether it is for a stress-ridden executive wanting to experience a couple of hours away from it all or just to meet other like minded people. Ushef is open for "Fun Cooking" evenings every Wednesday and Thursday. You can also can get a group of friends together and book out the venue any time. It's a great way to celebrate a birthday, kitchen tea or a friends night out!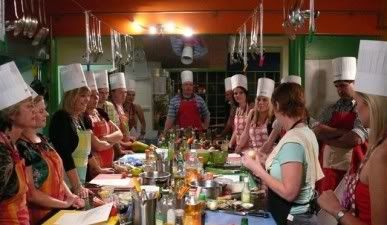 Ushef is situated in a residential property in Johannesburg North that creates a beautiful and private venue, with plenty of secure parking. The kitchen is stocked with everything you need from the smallest measuring spoon to the biggest pot, as well as every "modcon" that would make our cooking experience that much easier!
During the fun cooking events you cook in pairs in our designer kitchen, assisted by the resident Chefs Gill and Leah. Once the food is made everyone moves out onto the large patio, to enjoy your creations.
uShef are great followers of Floyd and believe that you cannot cook with out a glass of 'something' nearby!
For more information visit the uShef website and join the Facebook Group for live updates.

Further deals in this category
Further deals in this city
Further deals in South Africa
Further deals in other categories