Kitchen inhabitants get to cooking up a storm with a Seven-Piece Cast Iron Pot Set in a choice of six modern colours. Featuring a frying pan, casserole dish and large and small pots, the set provides all the necessary tools for Groupies to hone their chef skills. With the ability to handle all kinds of stove tops and retain heat efficiently, the enamelled cast iron pot set ensures meals are prepared properly.
Choose between these options: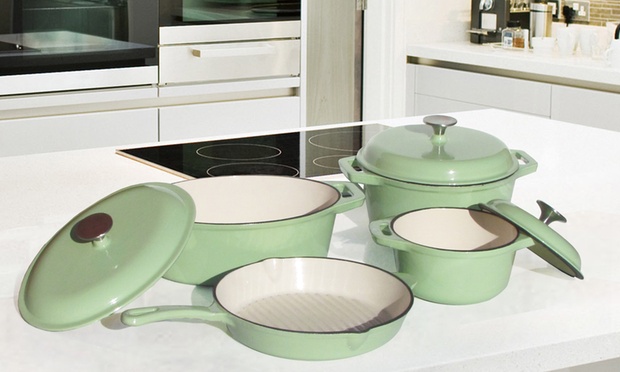 Lime Green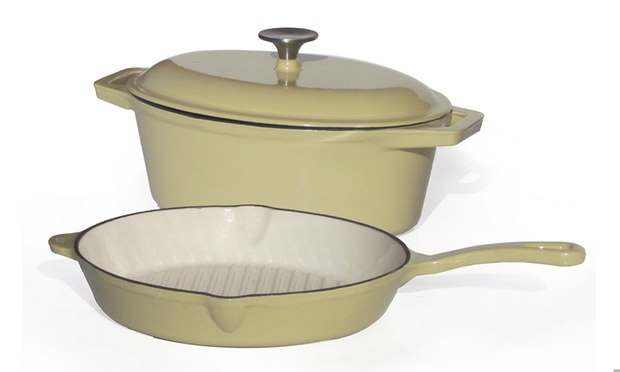 Almond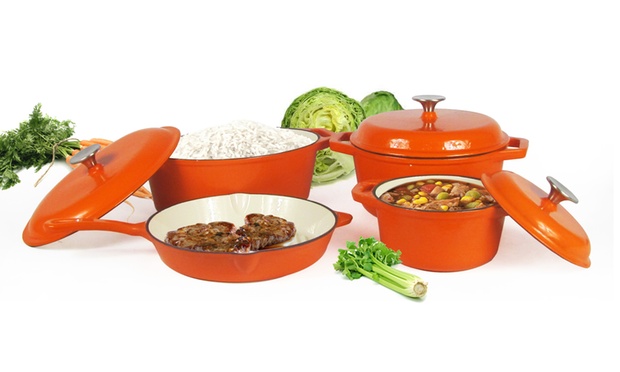 Burnt Orange
What you need to know:
Material - cast iron
Works with all heat sources; gas, electric and ceramic top
Lid fits snugly to lock in moisture and flavour
Colours: Lime Green, Burnt Orange, Almond and Maroon Red
Cast Iron construction ensures even heat distribution
When properly seasoned, provides long life non-stick and rust free pan
Attributes of cast iron means hot food stays hot for longer, providing greater energy efficiency
Dimensions:
Small pot: (H x W x D) 8.5 x 23.5 x 8cm
Large pot: (H x W x D) 10.5 x 30 x 24cm
Fry pan: (H x W x D) 4.3 x 41.5 x 27cm
Casserole: (H x W x D) 10 x 35 x 21cm
In a Nutshell
Cook well with a seven-piece cast iron pot set in a choice of trendy colours.
The Fine Print
Purchase: Please note, that Calasca will handle all queries in relation to your purchase. If you have any queries regarding your order, please contact Calasca directly by emailing info@calasca.com and allow up to three working days for a response.

Your order: Delivery for this product will occur within 2 weeks. Please note delivery for orders paid by EFT might be delayed up to 5 days. EFT's not processed when deal closes will be refunded. Enter your daytime delivery address during checkout. No further action required. Delivery address cannot be changed after purchase has been made.

Further information: Notify info@calasca.com within 7 days of delivery. Returns are accepted only if in original packaging. Opened packages will not be accepted for returns. See the rules that apply to all deals. Opened packages will not be accepted for returns.