In a Nutshell
---
An Electronic Luggage Scale able to weight up to 40kg with a Stainless Steel hanging hook
Product Details
---
Groupies avoid paying excessive luggage fees or finding space for your favourite boots in your hand luggage with an Electronic Luggage Scale. Able to weigh up to 40kg, the scale has a Stainless Steel hanging hook and can measure in four units. The LCD screen with blue backlight makes determining the weight of your luggage a breeze, while a tare function can be used when weighing bulk goods.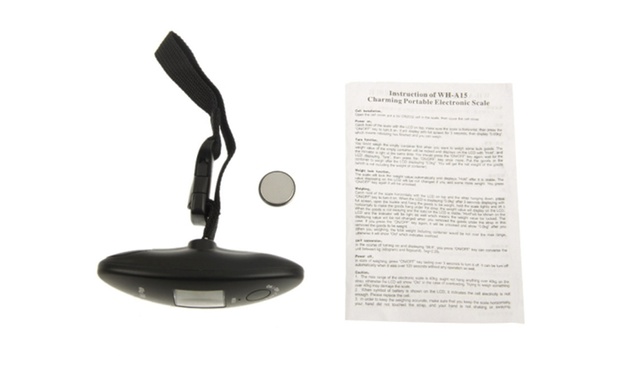 What you need to know:
LCD screen display with blue backlight
Tare function when weighing bulk goods
Four weighing units: Kg, OZ, lb, and gr
Material: ABS engineering plastic
Hanging hook: Stainless Steel
Two buttons: ON/Tear and UNIT
Maximum weight: 40kg
Accuracy: 100g
Powered by a 2032 battery
Dimension: 100 x 37 x 25mm
Hook length: about 55mm
The Fine Print
---
Purchase: May buy multiple. Limit one per redemption.

Your order: Delivery for this product will occur within 2 weeks. Please note delivery for orders paid by EFT might be delayed up to 5 days. EFT's not processed when deal closes will be refunded. Enter your daytime delivery address during checkout. No further action required. Delivery address cannot be changed after purchase has been made.

Further information: Notify support@groupon.co.za within 7 days of delivery. Returns are accepted only if in original packaging. Opened packages will not be accepted for returns. See the rules that apply to all deals. Opened packages will not be accepted for returns.