In a Nutshell
---
USB seven port hub compatible for PC and Mac available in white
Product Details
---
Groupies expand their PCs capabilities and make life simpler for themselves with a USB Seven Port Hub.The hub boasts a 480Mbps transmission rate and is USB 1.1 and 2.0 compatible and uses only one USB port on the PC to provide seven ports on the hub. Perfect for charging half a dozen iPhones at a time or powering up an army of USB robots, this hub makes computers better.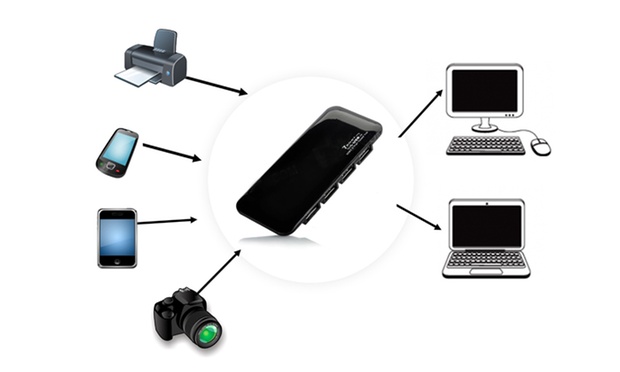 What you need to know:
Model: HBU-7
Material: ABS
Connector type: USB 2.0
Hubs number: 7
Transmission rate: 480Mbps
Excludes power supply USB / AC power charger
Supports system: Windows 95 / 98 / 2000 / 2003 / ME / XP / Vista, Mac OS 8.1 or above version
Other compatible with USB 1.1
Packing List:
The Fine Print
---
Purchase: Please note, that Calasca will handle all queries in relation to your purchase. If you have any queries regarding your order, please contact Calasca directly by emailing info@calasca.com and allow up to three working days for a response.

Your order: Delivery for this product will occur within 2 weeks. Please note delivery for orders paid by EFT might be delayed up to 5 days. EFT's not processed when deal closes will be refunded. Enter your daytime delivery address during checkout. No further action required. Delivery address cannot be changed after purchase has been made.

Further information: Notify info@calasca.com within 7 days of delivery. Returns are accepted only if in original packaging. Opened packages will not be accepted for returns. See the rules that apply to all deals. Opened packages will not be accepted for returns.