In a Nutshell
---
Wireless multimedia bamboo keyboard with compact, biodegradable design.
Product Details
---
Putting a cool new twist on keyboards and helping Mother Nature at the same time the Wireless Multimedia Bamboo Keyboard. Handcrafted from bamboo, these keyboards are biodegradable and environmentally friendly as well as being fully compatible with Microsoft Windows and Macs. Fun, different and responsible, this keyboard looks great and keeps computer-lovers happy.
What you need to know:
Small keyboard with closely spaced keys
Surrounding shell material is made of bamboo
Includes power-saving mode
Impressive key strength withstands over 5 million pushes
Made from environmentally friendly, biodegradable material
Specifications:
Size: 310 x 135 x 22mm
2.4GHz wireless transmission technology
Key strength: more than 5 million pushes
Able to work between more than 12 frequency channels
Reception and transmission will always be the operation (online) mode
Supports low voltage signal
Compatible operating systems: Windows 98 / 2000 / ME / XP/ VISTA, WIN 7
Transmission distance: 7-15 metres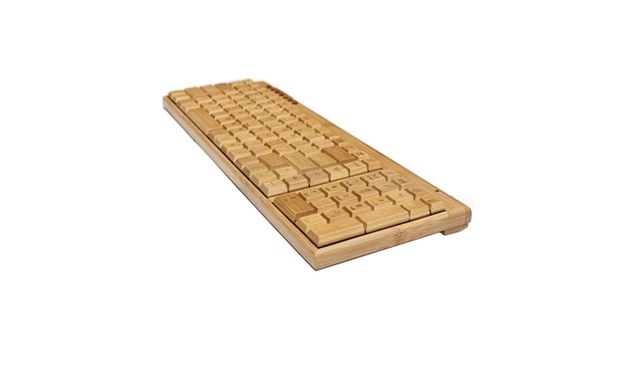 The Fine Print
---
Purchase: Please note, that Calasca will handle all queries in relation to your purchase. If you have any queries regarding your order, please contact Calasca directly by emailing info@calasca.com and allow up to three working days for a response.

Your order: Delivery for this product will occur within 2 weeks. Please note delivery for orders paid by EFT might be delayed up to 5 days. EFT's not processed when deal closes will be refunded. Enter your daytime delivery address during checkout. No further action required. Delivery address cannot be changed after purchase has been made.

Further information: Notify info@calasca.com within 7 days of delivery. Returns are accepted only if in original packaging. Opened packages will not be accepted for returns. See the rules that apply to all deals. Opened packages will not be accepted for returns.