Customer Reviews
Thank you for looking after our kids so well and providing us with shade and chairs. We had a great time.
PAOLA P.
·
January 8, 2015
We had so much fun. Thank you! We will definitely be back... with lots more people to experience all the fun :)
Lauren H.
·
January 5, 2015
Everything was awesome!
Natasha P.
·
December 17, 2014
What You'll Get
---
Before the invention of sandboards, humans had to satisfy their urge to catch a dune by luring it with a glass of water attached to a string. Conquer sand on a board with a sandboarding experience for up to six people with Mamba Sandboards
Choose from these options:
Pay R300 for sandboarding for two people, valued at R600
Pay R564 for sandboarding for four people, valued at R1 200
Pay R810 for sandboarding for six people, valued at R1 800
Riders hit the sand with a two hour sandboarding experience in the Atlantis Dune.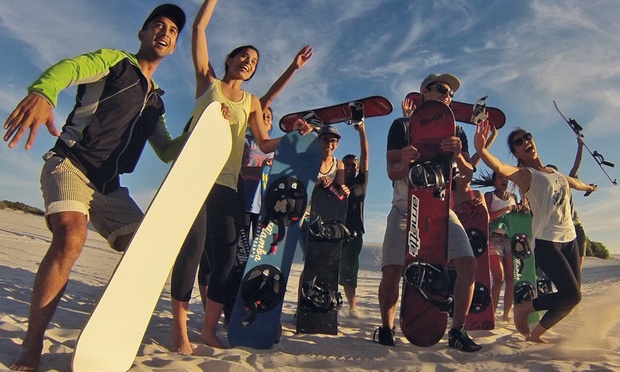 More About Mamba Sandboards
Mamba Sandboarding is a family run business that focuses on affordable excursions for families, or groups of friends. Their mission is to guarantee fun!
The Fine Print
---
Validity: Valid for 3 months from date of purchase.
Purchase: One Groupon per person; one additional may be bought as a gift.
Redemption: Reservation required 48 hours in advance: 021 555 0831 or mambasandboards@gmail.com No-shows forfeit Groupon.
Further Information: Kids under 15 years pay R150.00. Activity takes approximately 2 hours. All equipment is provided except sunblock. Preferred times are either early morning or late afternoon. Groupon does not cover additional tax, service charge or gratuity. Picture displayed is only a representation. Subject to availability. Groupon T&Cs apply Merchant is solely responsible to purchasers for the care and quality of the advertised Goods and services.
About Mamba Sandboarding
---