The Issue
Countless children live with treatable facial conditions such as Cleft Lip and Palate, burns and Moebius Syndrome (facial paralysis) amongst others. Smile Foundation is a registered non-profit organisation dedicated to supporting children requiring facial reconstructive surgery. Smile Foundation offers support to the surgeons in the Departments of Plastic and Reconstructive Surgery within South Africa's Academic Hospitals. Aside from medical treatment, recovering children are also in need of special care in paediatric wards such as pre, during and post psychological support, speech therapy, occupational therapy, etc. Smile Foundation invests in the infrastructure of the public healthcare system by funding equipment and offering support for skills development through their Academic Programme.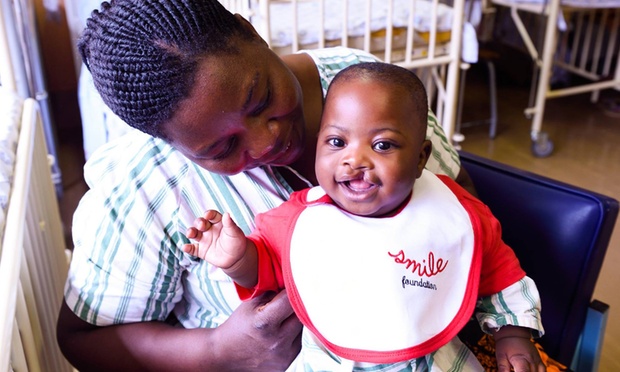 Campaign
Smile Foundation needs donations to help them continue their work. Contributions will go toward helping a child with the gift of surgery as well as providing paediatric wards with equipment and enhancing these facilities within hospitals that the foundation is partnered with. These funds will be raised for the Nelson Mandela Day initiative covering the following hospitals:
Sensory Garden at Charlotte Maxeke Academic Hospital
Jungle gym
Toys
Wendy House
Swing
Outdoor and indoor educational toys
Speech Therapy Department at Dr George Mukhari Academic Hospital
Paint and polyfilla for the hallway and playroom
Plastic storage containers to store toys, books and puzzles in the playroom
An electronic scale to weigh babies attending the speech therapy clinic
Consumables for the children's treatment
Books
Oil heater
A carpet for the children to work on
Toys for the children
Crayons
Pens
Pencils
Drawing books
Educational toys
Puzzles
Skipping ropes
Table top activities
Skittles
Colour papers
Scissors
Glue
Academic hospitals
Eight flat screen televisions for the children's wards
32 sleeper chairs for parents
Sponsors can choose to donate R 67, R 167, R 267, R 567 and R 1 067 to assist the foundation in achieving their goal and helping a child get their winning smile back.
Smile Foundation
Founded 14 years ago by the plight of one child and one letter from Mr Nelson Mandela, Smile Foundation has helped more than 1 300 children to date. In 2007 Smile Fund was established as a Section 21 and re-branded as Smile Foundation, and today the foundation works with hospitals around the country. By not only providing the medical equipment required by the Departments of Plastic and Reconstructive Surgery but also investing in the infrastructure of the hospitals they are partnered with, the foundation assists children with pre- and post-surgery care. A consequence of Mr Nelson Mandela's belief and passion for children, Smile Foundation is changing lives one smile at a time.
Customer Reviews
Groupon is a very convenient and hassle free manner for me to make donations. The only problem is that I have no way of knowing whether The Smile Foundation received it.
Erica N.
·
January 8, 2015
They do an excellent job.
Charmaine S.
·
January 8, 2015
What i have seen and read on your website is incredible. Keep up the good work and continue making the children smile.
Devadass M.
·
January 8, 2015